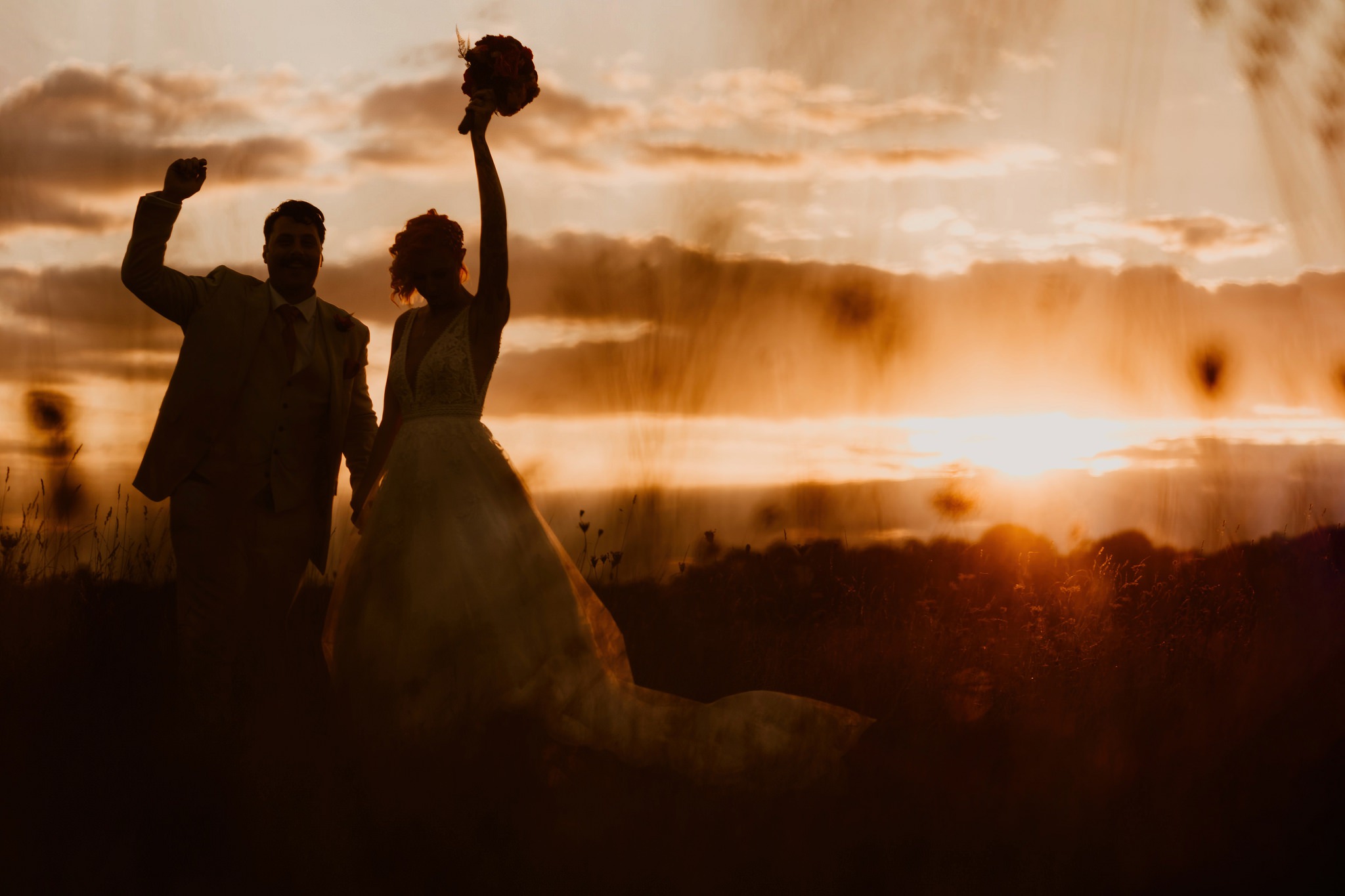 Michelle and Glenn got married at Smeetham Hall Barn, which is a fabulous venue on the Essex, Suffolk borders. It was a dream to shoot at with a fabulous couple, beautiful barn and stunning grounds. Win win win!
AND – these guys definitely know how to throw a party - it was beyond LEGENDARY, just the absolute best time shooting this wedding 🤘✨
The day started off with an fantastic energy in the air. As soon as I arrived, I knew this was going to be a wedding like no other. The bride and groom were both dressed to impress in their fabulous outfits, and their love for music was evident in every aspect of the celebration. From the colourful, vibrant decor to the kick-ass DJ playing all their favourite tunes. This wedding had a unique vibe that set it apart in the best way possible.
On The Day Highlights:
Flower Dude: When the couple told me they have a flower dude – you kinda think us shy, retiring Brits won't do it justice. BUT OH, how wrong I was. Josh nailed his flower dude entrance, it was spectacular and them some!
Emo Hour: Yep a whole hour of dancing to their teenage favourites, Radiohead, My Chemical Romance, The Killers, oh and of course, Nirvana! Oh my god, it was pure joy to photograph! (and yes I danced!)
Tattoo Bar: Doris Loves did a fab job (and were very busy) at providing temporary tattoos for everyone
White denim jackets: Michelle is a costume designer so of course their signing "book" was not a traditional book – but jackets!
The EPIC First Dance. They did a fabulous job and it paid off brilliantly. Definitely a 10 from the judges!
Why Smeetham Hall Barn is a great place to get married
Smeetham Hall Barn is perfect for couples who want a big party, and is one of the loveliest places to get married in Essex. The reception was in the barn at Smeetham Hall Barn, a beautiful large barn with lots of space which is great for larger weddings.
Weddings at Smeetham Hall Barn are amazing, and we got so lucky with the beautiful sunset. (*Thank you to Sophie, the wedding coordinator for showing where to go to get the best views!)
As a photographer who loves capturing moments this was an absolute dream come true, from games on the lawn, lots of laughter, and fun things to keep guests entertained. Every detail felt perfectly planned and executed. It was a brilliant day and I had such a fun time. Enjoy the photos.
Sx
Massive shout out to the wonderful Lucy Noble for second shooting for me.
If you're planning a wedding at Smeetham Hall Barn, do get in touch!