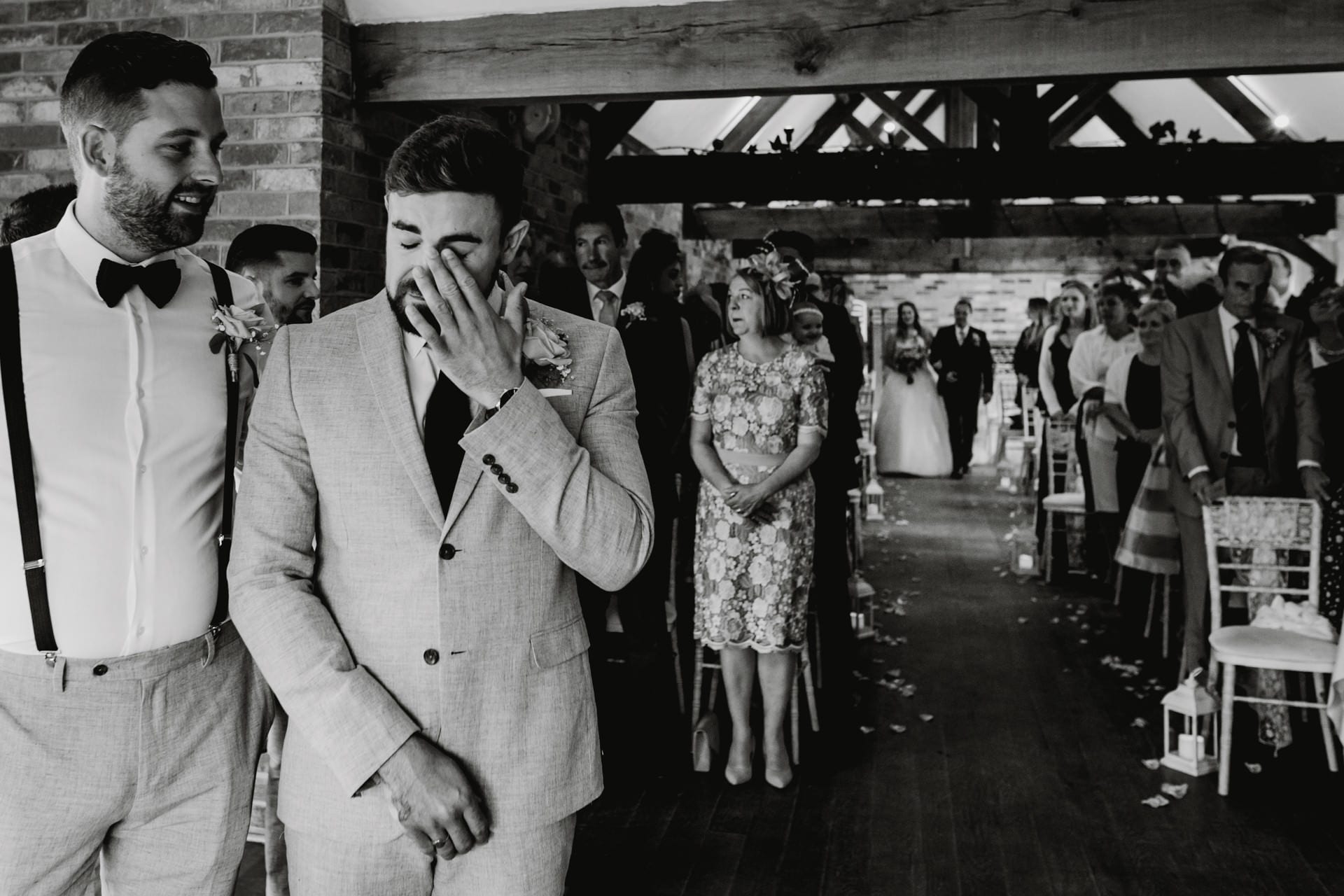 Such a wonderful day at Long Furlong Barn in Sussex. Sam and Steve decided to get married in the UK (and not Australia where they live) so they could have all their friends and family along… how lovely is that….
These two. Sam and Steven are just the best. Totally in love and totally lovely people. They live and work in Australia but decided to return to the UK so that their families and friends – but particularly Sam's granddad – could all attend their wedding. It was such a beautiful, emotional and fun-filled day. It was a pleasure and real honour to photograph.
Sam and Steven got married on a Monday in August at the fabulous Long Furlong Barn near Worthing in Sussex. I joined the boys at the barn while they were getting ready before heading off to see Sam and her girls at Findon Manor Hotel. Luckily, Steven's sister is a fabulous make up artist and did a brilliant job and always on hand to touch up throughout the day!
Vintage Car Surprise
One of my favourite moments from the day was Sam's reaction to Steven organsing a vintage Riley from Petworth Car Hire as a surprise to take her to the venue. Riley is Sam's maiden name so a brilliant detail and Sam's dad was very chuffed too!
I must just mention about Sam's dress! Normally – people getting maried in the UK would choose a dress in the UK…but oh no – Sam fell in love with a dress in Australia and had to bring is over with her as hand luggage!! I can only imagine the faces on board that flight!
I just loved this wedding. So much honest emotion (note Steven's face as Sam walks down the aisle) so many beautiful tender looks between them, so many hugs, so much love and oh, an orange smoke bomb during our couple time photos! Just perfect.
After they wedding, they send me this message:
What a lovely lady with a great talent for capturing the moment. We barely noticed she was there half the time and the photos are fantastic. The portrait shots (which we were self consciously dreading doing!) were actually a lot of fun! I couldn't recommend Sharron highly enough.
This wedding <3.. I hope you like it too and if you're planning a wedding at Long Furlong Barn in Sussex do get in touch as it would be great to photograph there again soon.
Enjoy! x