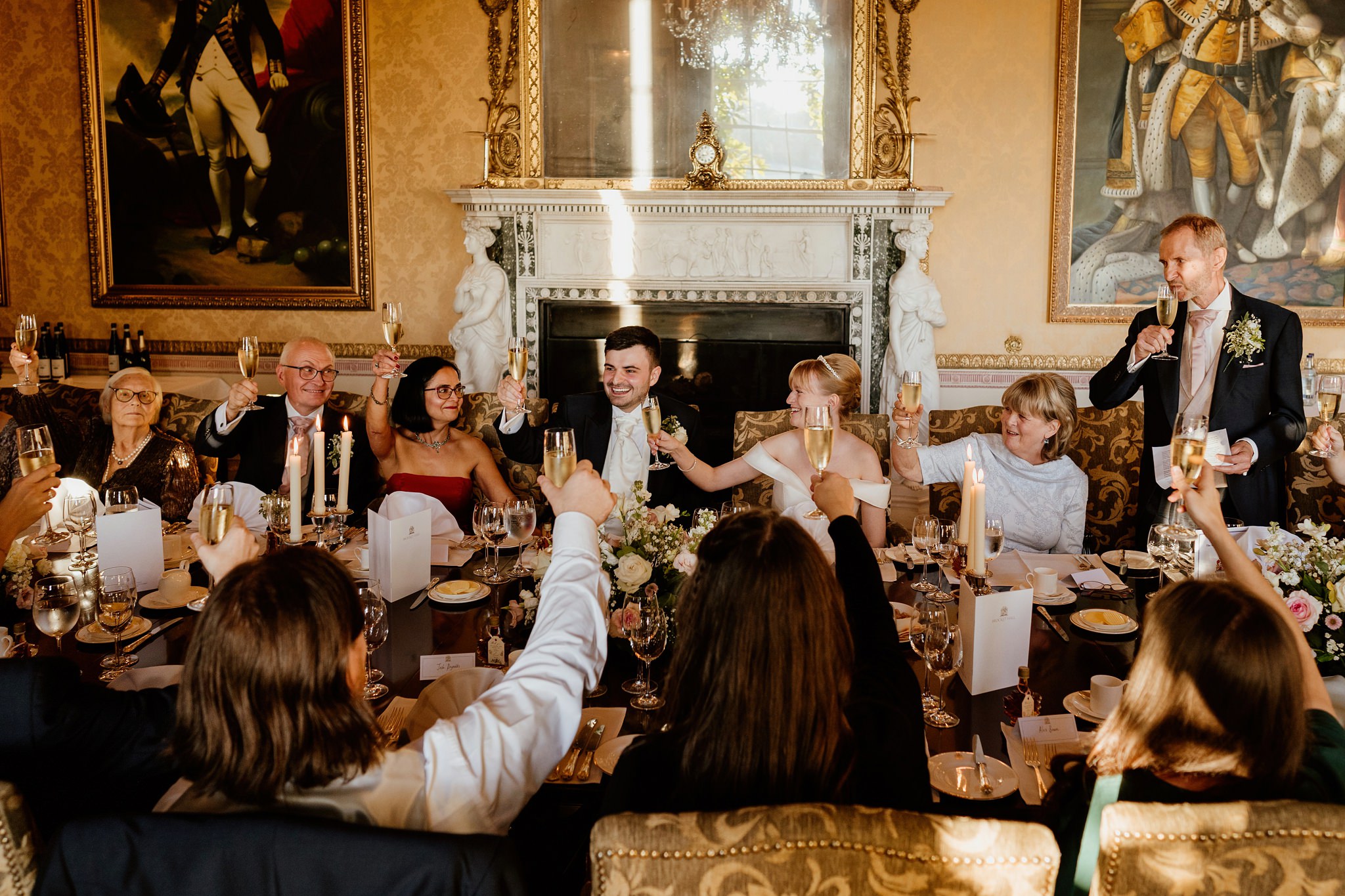 I was lucky enough to do the wedding photography for Elise and Ernest, who got married at the stunning Brocket Hall in Hertfordshire. It had all the Downton Abbey vibes you would expect from a beautiful English stately home.
Glorious autumnal wedding
I arrived on a bright, sunny morning in October while Elise and her maids were all getting ready. They were so chilled and relaxed chatting about their favourite films (13 going on 30, a classic) it was a joy. The bridal suite at Brocket Hall is gorgeous and I adored playing with the light in there.
The ceremony was a beautiful, intimate service. During the ceremony they had several lovely readings from friends and family. It was really emotional.
Why Brocket Hall is a great place to get married?
Brocket Hall is stunning! It really is one of the loveliest places to get married in Hertfordshire. The house and grounds is famous for the renowned Auberge du Lac restaurant, Grade 1 listed accommodation at Melbourne Lodge and of course, it's golf course! It had so many beautiful spots for photos too!
Weddings at Brocket Hall
After the ceremony, the couple and their guests had cocktail drinks. It was a surprisingly sunny day for October - so guests were able to mooch about the house and outside by the river as well. To keep proceedings going, magician Andy Jamieson kept guests entertained!
For dinner they had a beautiful dinner on long tables, and the first dance was a fabulously choreographed number. They finished off the evening with fireworks.
The beautiful couple
Elise wore a stunning mermaid style off the shoulder dress from Wed2BE which was beautifully elegant and suited her figure perfectly. Ernest wore a super dapper tuxedo and they looked really gorgeous.
There were so many wonderful moments throughout the day. My favourites included, Elsie doing her mum's make in the morning (she did a great job), Ernest's dad shouting "Gorka" throughout the wedding breakfast - which means they have to kiss (old Russian tradition). The epic fireworks, the beautiful setting of the dining room. And a little thankful nod to the glorious autumnal weather.
Elise is the younger sister of a friend of mine, and I've been fortunate enough to photograph all three siblings weddings over the past few years. It was really special to see the families again and capture all their beautiful moments for them.
I have, also, completely fallen in love with Brocket Hall, and would love to be your wedding photographer! So if you're planning your wedding, please do get in touch! as I'd love to photograph there again. Thank you.
Enjoy the photos! (In a purely random order, just for fun!)
Sx
---
DREAM TEAM
DJ/Compare – http://[email protected]
Video – https://www.talkingfly.co.uk/
Magician –info@http://andymagicman.co.uk