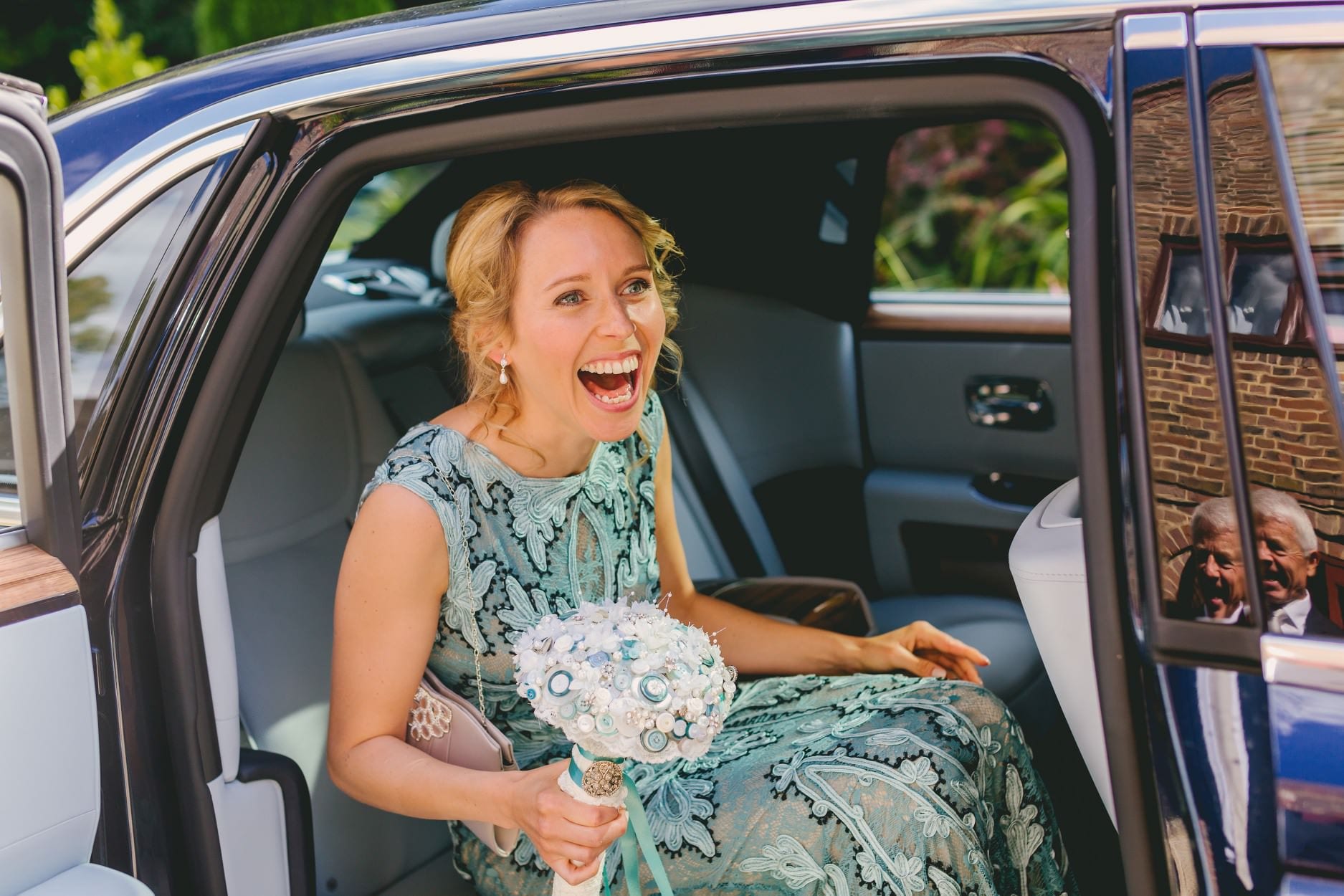 Cat and Darren's awesome Hampshire back garden wedding.
Love love love this wedding! Catherine and Darren created something so wonderful and unique to them and their lives it was really special, filled with so much happiness  and energy . It was a total joy to photograph from start to finish.
Turquoise, fish tail wedding dress
Catherine and Darren got married in Cat's parents' back garden (or side paddock) near Brockenhurst in the New Forest. I arrived while Cat was having her hair and make up done, she was already in her dress (but it was hiding underneath her beautiful kimono to keep it safe). But it looked amazing. A turquoise, fish tail dress from Phase Eight.
Once she was ready, Cat left her parents house and headed for a drive around the countryside so she could make an entrance and allow guests and groom, Darren, to arrive. Cat and Darren had decided to have a beautiful, intimate Humanist ceremony  outside in the garden – and they were so lucky with the weather – it was amazing for late September. They asked a family friend to be their celebrant and he did a great job – very calm and collected, just the ticket.
Awesome first dance
They held a vintage tea party and asked their guests to bring along their favourite cakes. It was great to see people walking into the paddock, dressed in their best wedding gear carrying a lovely homemade cake! They also asked guests to bring along any toys they had that would keep the children happy. They ended up with massive Jenga, Space Hoopers and other baby safe toys. After tea and cake, guests were invited to join them at the local Brockenhurst Village Hall for dinner and dancing. It's really hard to pinpoint highlights as everything was amazing.
The food was delicious.  Their wedding cake was made by Darren's mum – it was a chocolate volcano cake – inspired by where Darren proposed – with additional honeycomb and sugar glass shards. It smelled amazing and had I not given up sugar a few weeks before, I would have dived straight in!
And the total highlight of the day – was their incredible first dance! Cat hoisted her dress up and they both looked like they really had fun.
I've put together a short collection from the day here – I do hope you enjoy them. Sx
If you're planning a back garden wedding then I'd love to be there to capture it all for you so please do get in touch!