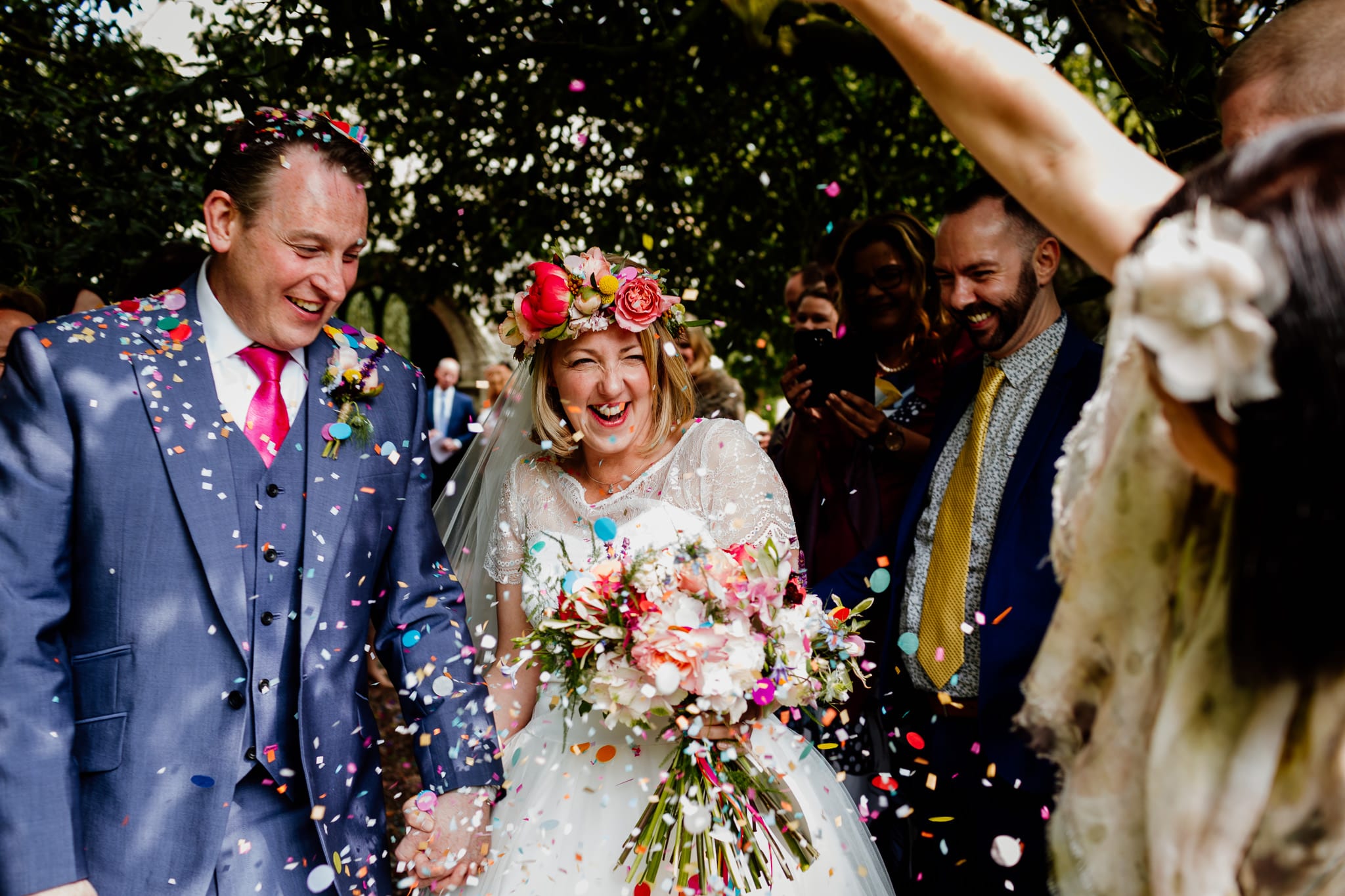 Niki and Andy's colourful farm wedding in Warwickshire was a riot of colour and happiness.
Niki and Andy's wedding back in May - was quite simply INCREDIBLE. When I first met them, I knew we were going to get on. They, like me, were huggers. Plain and simple. Hugging is the best thing. And when you meet people who hug - you know you have found a happy place.
Beautiful, creative wedding
And that is exactly what they created for their wedding. A beautiful, creative, colourful and totally inspiring and HAPPY place! In all honesty, I've struggled with this blog post because how do I capture that and put it into words and pictures (...and I was a journalist for 10 years - you'd think I'd have learnt by now - but sometimes things just floor you). So I will try in the only way I know how - I shall state the facts and see where we go from there!
So. this was such an incredible wedding to photograph, filled with so much love and happiness. Niki and Andy tied the knot in a beautiful, tiny chapel in Ullenhall near Henley in Arden and held their reception just down the road at Andy's parents farm. I'm absolutely thrilled I was there to witness it. The chapel, the farm and barn had been styled beyond belief. Everything looked perfect.
Awesome Marachi Band
Niki's amazing bouquet and flower crown were created by Jo at Floral Secrets, her dress by Candy Anthony and little lace top from Carousel Fashion on Etsy. The shoes were Carvela at Kurt Geiger. Andy's very sharp suit was by Dress2Kill in London and snazzy shoes by Barkers. The main cake was made bt Andy's mum and all of the decoration were DIY from various shops on etsy. And to top the event off, Niki and Andy had the wonderful The Mariachis along, it was was so much fun!
Amazing testimonial
After the wedding Niki and Andy sent me an amazing testimonial - that makes me well up to read it...So I'm just going to leave it here!:
Sharron, from our first Skype chat, via big hugs in a quiet cafe, through to the big day itself, we felt totally comfortable with you. You helped us relax into our shoot, and made us look amazing in photos that we'll treasure forever! It was lovely working closely with you to plan all the shots for the day - you just "got it" and knew exactly what we wanted, including the awesome confetti shots, which, by the way, you totally nailed!!!! Thanks!!! 
You perfectly captured how we both remembered the day, with stunning photos of everything from the main events, to all the small and intimate details. When you whisked us away at sunset to take some shots of the two of us, it gave us a chance to take a breather, and spend some quiet time contemplating the day.  The photos in the field were just breathtaking, with the beautiful dusky light, and we really do look every bit as in love in the photos as we feel!!
You fitted in perfectly with our small and intimate group of friends and family, and we barely noticed you snapping away, taking the most beautiful shots!!!!
The photo gift box was A-mazing, getting all the little books, prints and the beautiful wooden USB stick was like receiving another incredibly thoughtful wedding present!!
Thank you, thank you, thank you!!! You're amazing. Please stay in touch! Lots of love and BIG HUGS, Niki and Andy. 
See why I am floored.
I loved this wedding and that I got to be a tiny part of it. THANK YOU Niki and Andy for choosing me, it means the world to me. BIG HUGS right back at you.
If you're planning a Mexican themed wedding - or a wedding in Warwickshire, I would really love to be there to capture it all for you – please do get in touch!